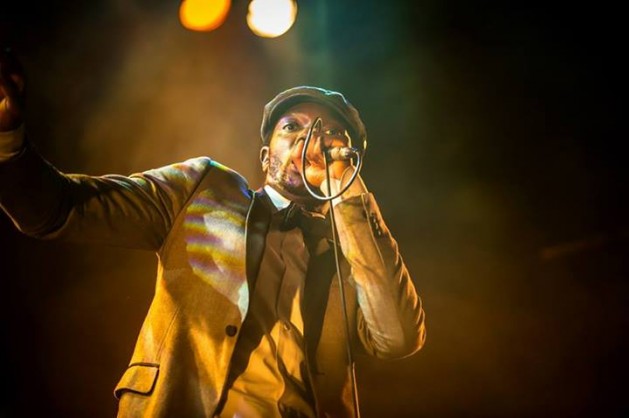 Photo credit: OSLO WORLD
Oslo World Music Festival really scored with this one. On Thursday, October 31st the wizard [Baloji means wizard in Swahili] took the stage at Parkteateret scene. Baloji was born in the Democratic Republic of Congo, and moved with his father to Belgium at the age of 4. Even though living most of his life both in Belgium and France, he was always aware of his Congolese roots. In 2004, he quit music to focus on other things. Thank God he came to his senses, and has since released two brilliant albums. Hotel Impala, a straight forward french hip-hop/rap album with soulful, jazzy beats and his second effort, Kinshasaa Succursale is full of his Congolese pride. In true "world music" spirit, this is the album he performed that Thursday night. With his band, Orchestre de la Katuba, Bajoli brought a great energy and had everybody dancing, and moving – but most importantly, listening.
By the 3rd song, the 6 ft. tall Baloji talked about the independence of his country. We are a new nation he said. We're still young, and we still have a long way to go.
The music from Succresale is clearly rooted in his home country. The music is tradtional, and contemporary at the same time. Some of it can even remind you of old school 80's hip-hop/funk – the link is so clear. The roots are African. On the song 'I'm Going Home', the chorus, sung beautifully and strongly by the bass player, is vibrant and Baloji often sits down to tell his story about his home.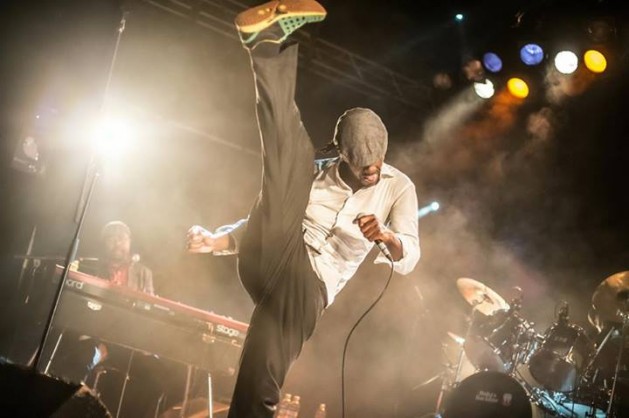 Photo credit: OSLO WORLD
Amidst the banging drums, the singing keyboard, the deep, pounding bass and the sweet soukouss guitar, Bajoli asks everyone to put one finger in the air. He had earlier grabbed a megaphone, which he holds steady in his right hand. He goes on to say "I don't know if they will mess with this, or not. But this is not fucking world music." And he repeats: "This is not fucking world music. This is OUR music. AFRICAN music." Some people in the audience look perplexed, others got the message and kept their finger high in the air above their heads. He repeated the word MOJA, while sirens penetrated your ears just under the guitar, drums, keyboard and bass. He does robotic movements during the whole song, and in the middle of it shows an outburst of energy. He grabs the micstand and raises it above his head, he layed on his back and rapped his heart out.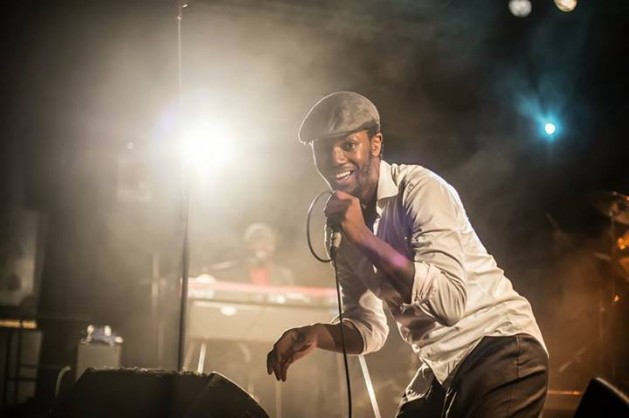 Photo credit: OSLO WORLD
He leaves the stage and comes bac out for two encores – one of them a song about his mother, whom he hadn't seen for 25 years. About this meeting, he asked her "Do you remember me?" He goes on to say "I was ashamed to tell her all the things that I had done, all the bad things. I wanted to make her an album. After meeting my mom, I realized I had always had a mom – my stepmom. I realized that everytime she saw me, she saw her husband's [my father's] betrayal. She raised a son that was not her own. This is a tribute to all the mothers." The song was soulful and full of love. The sweet, sweet guitar played while Baloji repeated "hear the guitar cry for me.
Baloji, even though being in Oslo for the first time in front of an audience who probably had never heard his music before, had an amazing energy on stage and put his heart and soul on the stage. His concert might have suffered due to Rokia Traroè, who might be considered as more commercially known than Baloji, who had her concert around the same time. But for those who came out, they were left with a great impression of seeing a true artist at work.
OWMF is over for this year, but check out their site for information about next years festival!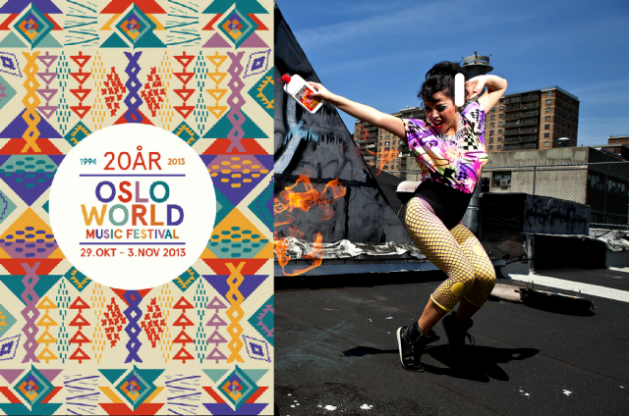 Photo credit: OSLO WORLD